1 February 2021: Preview release
1 Marchj 2021: SMB Release
1 June 2021: Enterprise Release
Form Extraction
Table Snip multiple Pages
Improvements for Document Matching and Find all Sums
Export with Snips and comments
User metrics dashboard
Text Recognition supports 73 languages
With Form Extraction, you can extract values from similarly structured documents. Snip all the values you want to extract if everything looks good in the preview table. After clicking the extract button a new sheet will be created with a snip for all values and documents.
The "Find all Sums" now includes horizontal and totals in different columns. By simply importing the documents and clicking Find all sums, DataSnipper finds all the sums from different columns.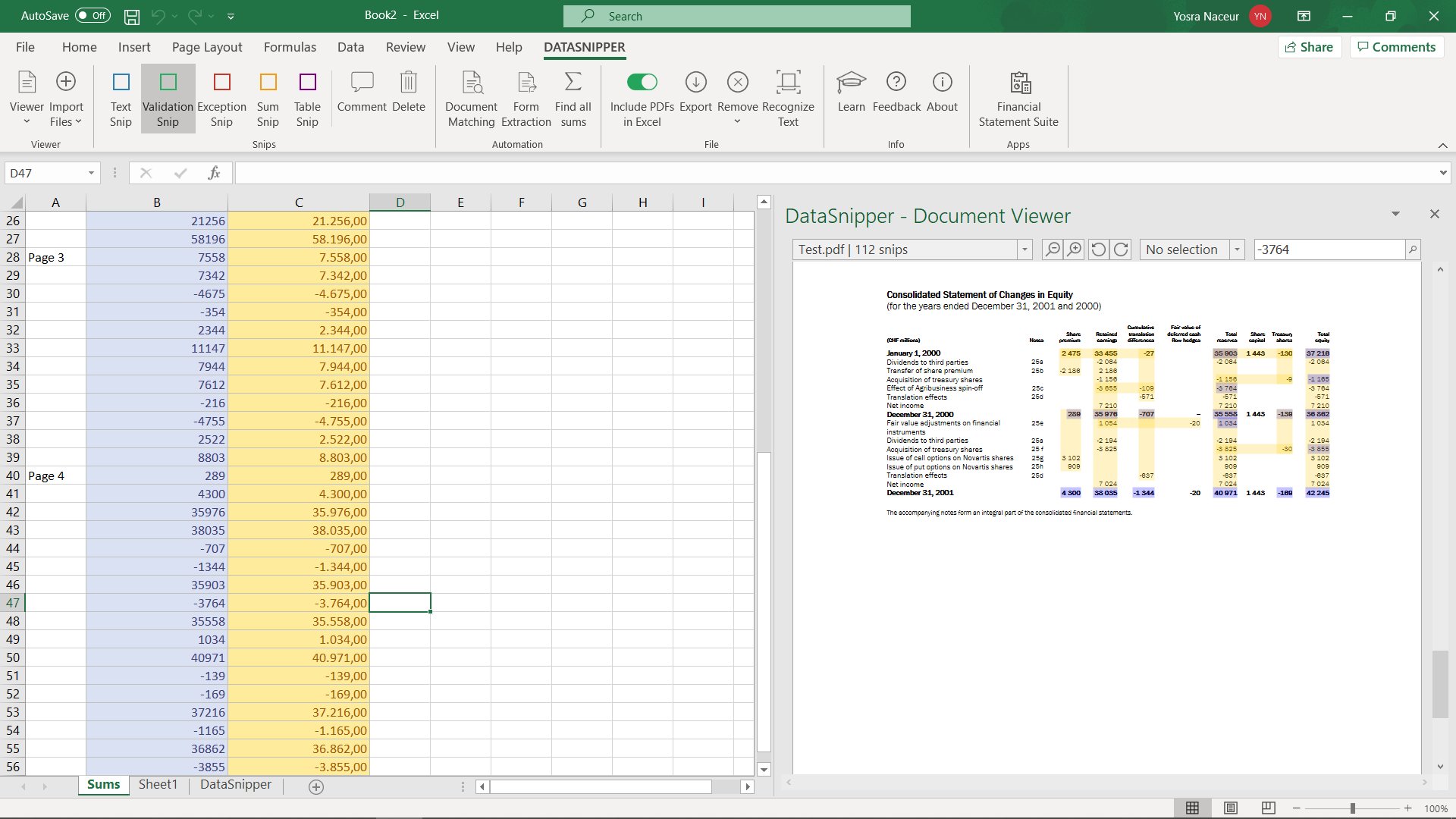 Options for Document Matching
With Matching options, you can add different options in your document matching by clicking the "..." button. You can set a column as required so if a field in that column is not found, the corresponding row will be left empty. You can also allow a difference up to a specified amount when matching a value.
Start by selecting the documents, the input columns, and the output columns. Then you can assign options to the desired columns.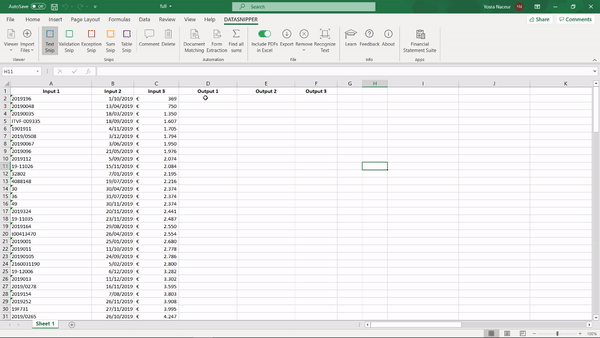 Table snip on multiple pages
The "Table snip" feature allows you to extract tabular data from multiple pages. Draw a rectangle around the data (excluding headers) in the PDF, so your first Table snip is created. Then click the "...", you can choose on which pages it should create addition table snips for the same positions. This is especially useful for tabular data on PDFs and it can process up to 10.000 pages.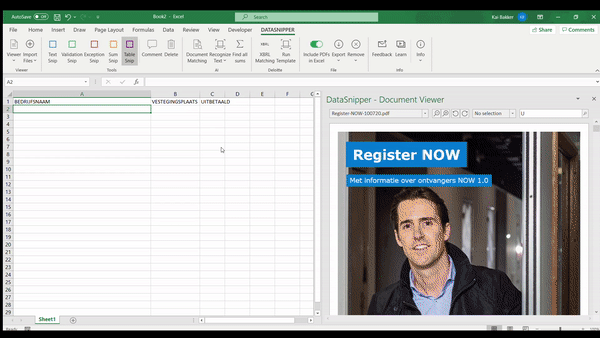 Document overview for export, remove, and groups
With "Document Overview" you can view all the imported documents in a single window where you can select or deselect the documents of your choice. This new overview window will automatically pop up when you want to export documents, remove documents or create groups.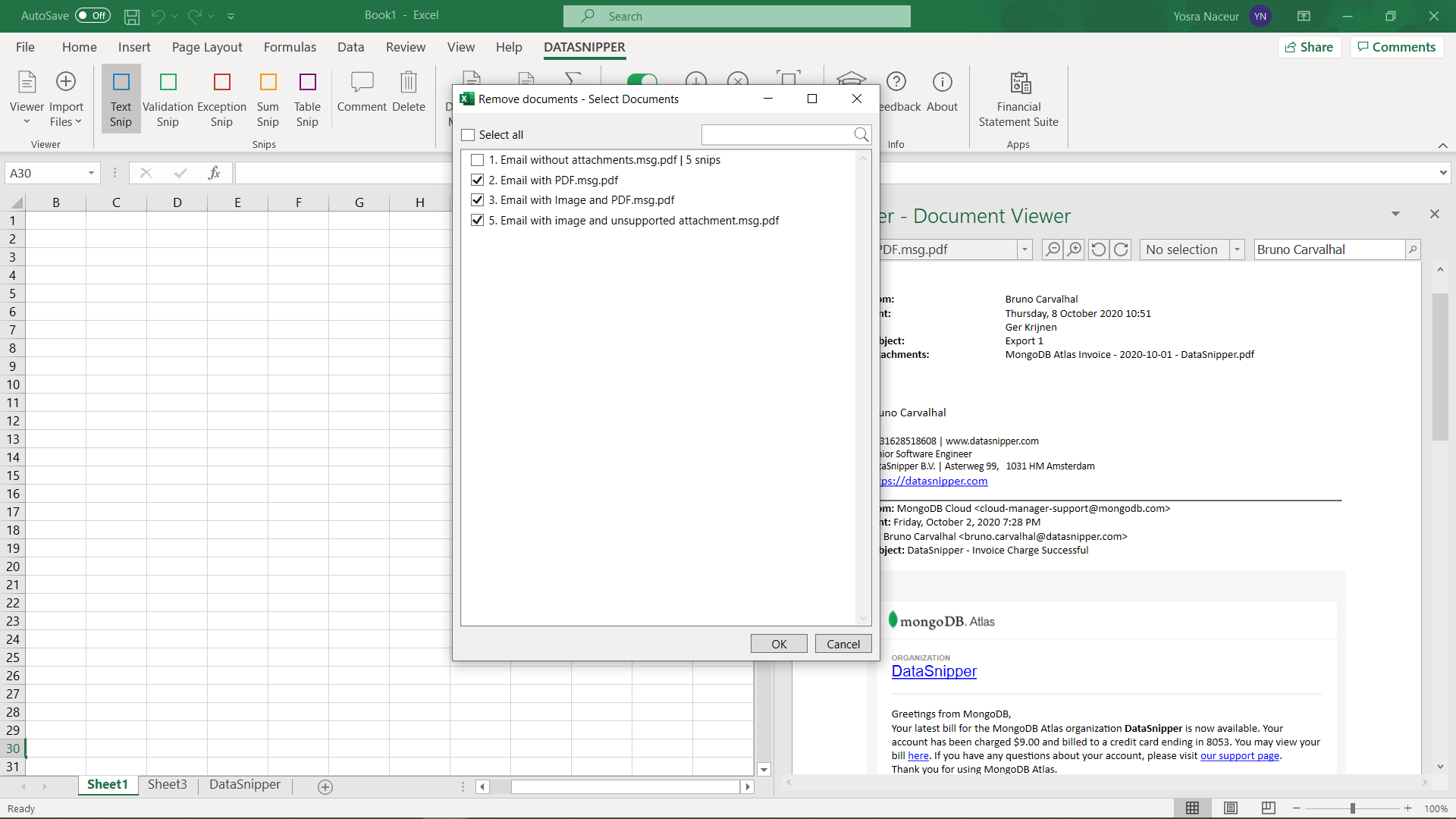 Export with Snips and Comments
While exporting documents, you can now export all the snips and comments attached to the document. Start by clicking the export button in the ribbon panel, select the documents you want to export in the Export window, and then select the "Export with snips and comments" option.
Text Recognition now support 73 different languages
Text Recognition now supports hand written text for English and printed text for the following languages: Afrikaans, Albanian, Asturian, Basque, Bislama, Breton, Catalan, Cebuano, Cornish, Corsican,
Czech
,
Danish
,
Dutch
,
English
, Fijian, Filipino,
French
, Friulian, Galician,
German
, Gilbertese, Greenlandic, Haitian Creole, Hani, Hmong Daw,
Hungarian
,
Indonesian
, Interlingua, Inuktitut, Irish,
Italian
,
Japanese
, Javanese, Kabuverdianu, Kachin, Kara-Kalpak, Khasi,
Korean
, K'iche', Luxembourgish, Malay, Manx, Neapolitan,
Norwegian
, Occitan,
Polish
,
Portuguese
, Romansh, Scots, Scottish Gaelic,
simplified Chinese
,
Spanish
, Swahili,
Swedish
, Tetum,
traditional Chinese
,
Turkish
, Uzbek, Volapük, Western Frisian, Yucatec Maya, Zhuang, and Zulu.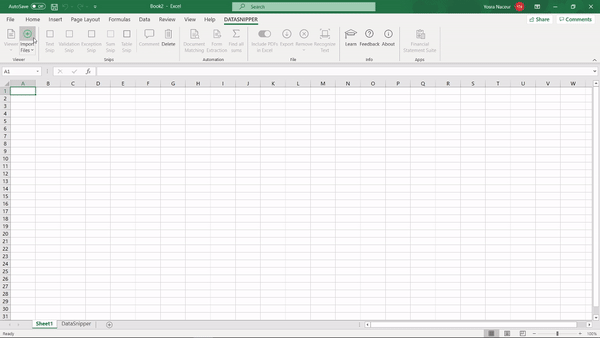 Audit Trail shows all embedded documents
The DataSnipper worksheet always shows a complete list of all embedded documents. This allows Regulators and clients without DataSnipper to reperform all work.
When importing files in DataSnipper, you can now select MSG files with attachments, ZIP, and any text-based format like HTML, XML, CAMT, RTF, and TXT. When choosing these files, they will be automatically converted to PDF and opened in your Document Viewer.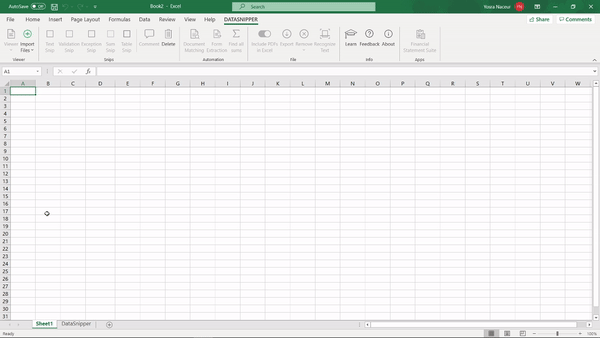 With our usage metrics tool you will be able to register and login online to a usage dashboard. This will provide key aggregated insights over: how many of each kind of snip your team are preparing, the number of documents where text recognition was performed, workbooks prepared/reviewed,  and document matching tests completed. You can view the trending of these metrics over time and display them on a monthly, quarterly or yearly basis.
This will be available mainly for administrators or implementation managers within your organisation.